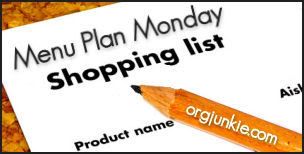 Good morning....What a beautiful morning it is today! I am down 2.0 this week ☺!! And...we only have 53 days until our vacation! Yaay!!
Lots have been going on around here, thats why I'm a little late with my menu planning. Last week was a busy week, my sister is moving into her new home, so I've been helping her get the new house cleaned and painted. I've met up with some old high school friends, to reconnect and catch up. Hubby and I went out for a much needed adult evening with some of our friends, had a great time at this local bar/restaurant. So, needless to say I totally forgot to post my menu yesterday.
Breakfasts
Multi-grain Cheerios and fruit 4 points
English muffin, egg white omelet with veggies and fruit 4 points
WW tomato toast w/cheese and berry smoothie 4 points
2 mini hash brown fritatta and fruit 5 points
lunches
lean cuisine and salad 7 points
skinny chimichanga, salad
BLT wrap, tortilla soup chip and salsa 7 points
Dinners
Bruschetta chicken, rice and veggie 12 points
ground turkey meatloaf, roasted cauliflower and mashed potatoes 10 points
chicken enchiladas, lemon cilantro rice, green beans 11 points
pork tenderloin, mashed cauliflower, dinner rolls, glazed carrots 10 points
Monterrey chicken, roasted Brussels sprouts, baked potato 11 points
If you want more info on MPM go to orgjunkie.com
Wishing everyone a very blessed and healthy week!!!
Fran