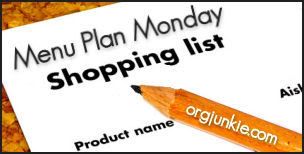 Good morning and Happy Monday!! Once again is been a crazy busy week here and will continue to be busy. When does life every slow down. My boys have both been sick with colds on and off over the past two weeks.
I am slacking on my workouts, I only worked out twice last week (slap on wrist) but my goal is to get back to 5 times this week. I've lost a total of 12 pounds (yaaay!!!) and hope to lose an additional 13 before we leave for our trip.
So, now onto our menu for the week. I am challenging myself to make dinner with food that is already in my cabinets. I want to use up the food that has been in there for 3,4 or 5 months. Needless to say, I'll have to be a little more creative with my menu this week.
I am leaving for the
Hearts at Home
womens conference on Thursday and will be gone until Saturday evening. Thanks to my very sweet hubby for taking care of our home and children while I am gone. And I am going to try to keep the menu very simple, so he isn't slaving away in the kitchen making meals while I am gone.
Breakfasts
pancakes, berries
cereal and fruit
eng. muffin, eggwhite and veggie omlet
Lunches
Lean cuisines, tortilla chips or salad
BLT sammie cucumber, celery and ranch dip
Dinners
lemon chicken, rice and veggie
turkey sausage subs
homemade pizza, homemade bacon fries
meatloaf, mashed potatoes, greenbeans
pasta and meatballs, salad, and garlic bread
asian pork tenderloin, mashed potatos and seasoned green beans
Snacks
apple and peanut butter
popcorn
grapes and granola bar
Hope everyone has a blessed week. If you want more on MPM check out orgjunkie.com
Fran