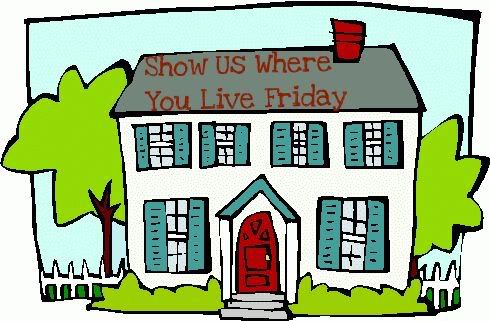 UPDATED: I decided to post a couple of updated pics of a few things I added and changed after seeing everyones beautiful kitchens.
After seeing Kelly's apothocary jars I ran out the next day and bought three....copy cat, I know. But they are just so beautiful. thanks for the idea Kelly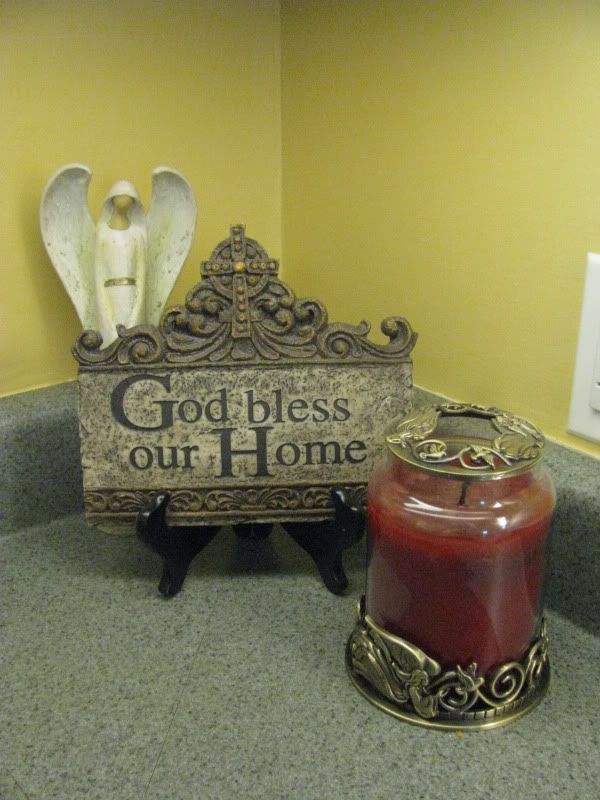 And this little display is in the corner of our kitchen counter.
Hubby painted this wall that was green a beautiful golden yellow, I LOVE it. It totally brightens up our kitchen, which is the heart of our home.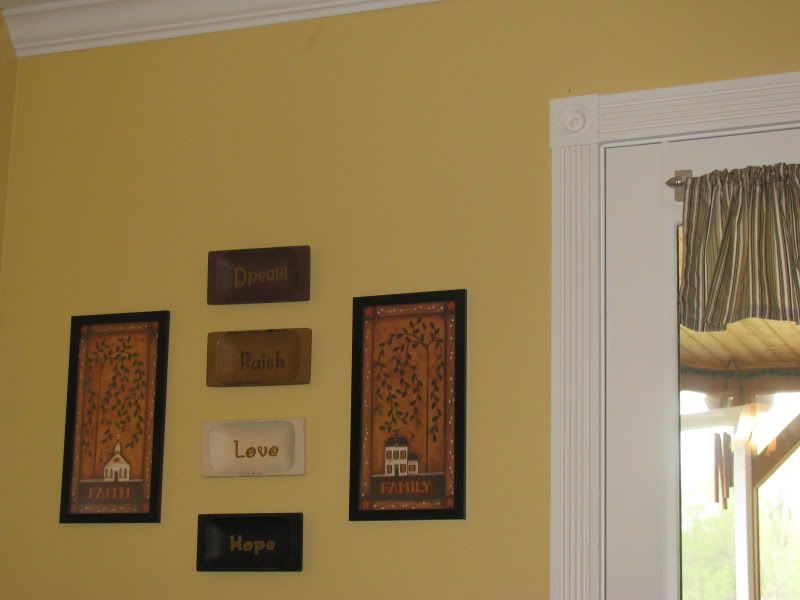 My friend Janine and I added these last week. they look perfect and have an uplifting message.
and one final pic. Ignore the black folding table, that was set up for a party we were having that evening. Thanks for looking!!!
Kelly at Kelly's Korner was hosting a Mr. Linky party yesterday, so I thought I would get on the bandwagon and post pics of our kitchen too. I love seeing pics of ppls homes. It gives me fresh decorating ideas. And I am in redecorating mode since we got back from vacation.
A few projects were going to be taking on over the next few months is re carpeting our stairs, tiling our entryway, re carpeting our boys new rooms, installing hardwood flooring in our office. Whew, that's a lot of stuff to do, thankfully my sweet hubby is handy and he'll be doing most of it.
Well here are a couple pics of our kitchen.
This is a pic from about two years ago, since we have painted a couple of the walls a golden yellow color.
and we have replaced the fridge with a side by side freezer on the bottom.
Here is our dining area. Love my table and chairs. the green wall is now the golden yellow and the wall with our french doors and breakfast bar is yellow too.
This is so true. I just picked this up at Kohls a few weeks ago.
I picked up these pictures at Hobby Lobby several years ago cuz I loved them so much. There are inspirational bible versus on each of the pictures. DH just recently got around to hanging them last year...lol
Check out Kelly's blog for more kitchen pics
http://www.kellyskornerblog.com/
Enjoy and have a blessed week!
Fran